Property Features
Decades of storage industry experience drove the planning and design of Virginia Varsity Storage – Franklin, which now features extensive customer-friendly features to make your storage experience stress-free, convenient, and secure.
Storage Types
---
Climate Controlled
Lockers
File/Record Storage
Indoor Units
Easy Rental Process
---
Online Rental Process and Billing Offered
Tenant Insurance Available
Automatic Billing Offered
Payment Drop Slot/Box
Professional Management
---
Easy Rental Process
Daily Inspection
Meticulous Maintenance & Pest Control
Customer Deliveries/Packages Accepted
Background Music Throughout Building
Convenience
---
Neighborhood Location & Access
Space Sizer Unit
Dollies/Carts
Access
---
Multiple Loading Docks at Three Levels
Access 7 Days a Week
Tractor Trailer Loading Dock
Covered Loading Areas
Layers of Security
---
24 Hour Digital Surveillance System
Extensive Security Lighting
FOB Access
Gate Access
Bonus Features
Space Sizer – Conveniently located in the rental office, the Space Sizer is a large storage unit with an adjustable wall that can create different sized units. This company-designed innovation allows customers to see and compare different sized storage spaces in real time and in one place, so you can find your perfect size. 
The Bullpen – Located near the main entryway, the Bullpen is a customer lounge that provides a comfortable place to wait for your moving crew, connect with a customer, or take a break.
WorkCenter – This private business room is an ideal, quiet spot to catch up on emails, take a private call or get a little work done.
Centre Court at Varsity Park – A creative, flexible space, this meeting room is ideal for small group collaboration. With a full glass exterior directly overlooking the Riverside South tennis courts and the latest in technology, this is the perfect space for ideas to flourish.
More Than Storage
SkyBoxes – The ultimate in Zen. Each named after an iconic sports venue, these quiet, personal spaces will provide the perfect getaway for those seeking a quiet place to read, reflect or reconnect with one's passions. With amazing views and a blank canvas to personalize, the SkyBoxes are the ultimate luxury. 
Field House – A private event space with unparalleled views and amenities, the Field House is as versatile as it is special. This 1000 sf space features a private entrance, a beverage center, a private restroom, 3 oversized televisions, a high-end sound system, a catering kitchen, and a patio to enjoy some of the best views in the Roanoke Valley. The space is ideal for watching March Madness, having a rehearsal dinner or hosting a private party.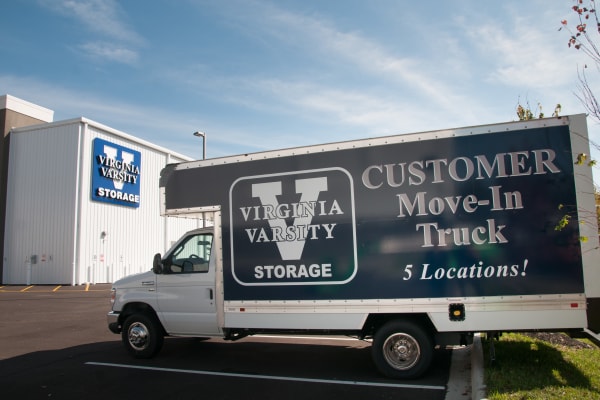 Customer Move-In Truck
If you're a first time tenant and need to move your items to storage, consider our free customer move in truck. The truck can be reserved on a first come, first serve basis and may be scheduled by calling the Virginia Varsity Storage - Franklin office.
The truck is an automatic, has a 16-foot cargo box and comes equipped with moving pads and a pullout ramp. As a new customer, it is available to you with a valid driver's license and proof of insurance. Restrictions apply, so contact our office for details.